Clinical Genomics Program

Director
Email
[email protected]
Telephone
+39 02 57489831
Location

Building 13




Floor 1st


Via Adamello 16, Milano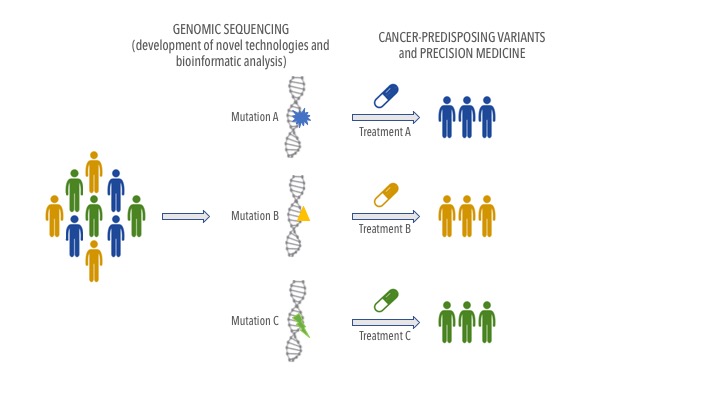 The Clinical Genomic (ClinGen) Program at IEO aims at maximizing genomic information to improve patients' management, continuously translating new genomic discoveries into suitable biomarkers.
The program acts as a referral center for the IEO genetics service by providing diagnostic-grade sequencing of germline cancer risk-associated variants. With a throughput of ~500 subjects a year, the lab is among the largest in Italy.
The program conducts numerous sequencing-based research projects and coordinates the efforts of the Genomics Working Group of the Alleanza Contro il Cancro (ACC) network, a consortium of >20 comprehensive cancer centres in Italy.
The program designed and validated high-throughput (200-400 genes) and low cost (500-700E) custom panels for the analyses of the Actionable Genome, including:
Multigene germline risk panels (26-96 risk-associated genes), routinely used for cancer genetics and tested in prospective trials on sporadic ovarian and triple-negative cancers (n=500 over 2 years).
Lung cancer panel, in a prospective multicentric national trial (n=1000).
PanCancer panel (GerSom), tested in multiple muticentric trials.
Clonal Hematopoiesis (CHIP) panel to monitor clonal evolution of hematological neoplasms.
Myeloid neoplasms panel (MyeloPanel), pre-diagnostic predisposition and somatic actionability of hematological neoplasms.
Additional interests in the lab are:
Identification of novel cancer-predisposing variants.
Implementation of novel technologies (liquid biopsies, long-read sequencing, radiogenomics) for disease monitoring.
Development of clinics-centred bioinformatic pipelines.
Most Relevant Publications
JCO Prec Onc, 2018

Breast Cancer Res, 2017